We care for your safety while you are on the move.
Good Green protects you with the limitations of "What we can't move".
What We Can't Move!
It's a moving day and the movers arrive, only to ask you to leave behind a box labeled "cleaners" due to their policy of not transporting certain items. This can be frustrating, but it's a problem that can be easily avoided with a little research. Good Green Moving is here to help, with a list of our items that you should not pack during your move: cleaners, hazardous materials, perishable items, and valuables. By knowing what not to pack, you can have a smoother, more stress-free moving experience.

Combustible Liquids

Flammables

Compressed
Gases

Explosive Items

Food Items

Corrosive Liquids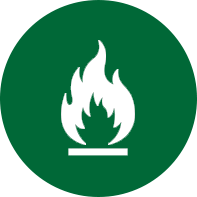 Oil-Based Paint Removers.
Not Sealed In Containers.
Any Insect Infested Items.
Rust Preventive Compounds.