Pets and Pianos. Cots and Cutlery. Good Green cares to remember…
…They aren't just things. They are your home!
Bay area and Los Angeles Residential Movers
At Good Green Moving, we understand that moving can be a stressful and overwhelming experience. That's why we offer tailored residential moving services to help alleviate your burden and provide a smooth, efficient, and stress-free moving experience. Our team of experienced professionals is dedicated to providing exceptional care and service from start to finish, whether your move is local or long distance. From the initial consultation to the final unpacking in your new home, we are committed to creating an unparalleled moving experience that brings you peace of mind.
We offer our moving services in the following areas!
Top 5 Packing Tips
that will make your move smooth and easy
| | |
| --- | --- |
| 1. | Start packing well in advance of your move. Declutter as needed. |
| 2. | Pack an essentials box with items you will need immediately upon arriving at your new home. |
| 3. | Consider hiring professional movers to help with the packing and transportation of your belongings. Save your time and effort |
| 4. | Use sturdy and reusable green boxes to prevent damage. Use bubble wrap or packing paper to protect fragile items. |
| 5. | Label all of your boxes with a detailed inventory of what is inside. |
Top 5 Storage Tips
that will make your move smooth and easy
| | |
| --- | --- |
| 1. | Choose a storage facility that is clean, well-maintained, and secure.  |
| 2. | Use high-quality storage containers or boxes to protect your belongings. |
| 3. | Wrap fragile items in bubble wrap or packing paper before placing them in storage. |
| 4. | Consider using storage bins with wheels for items that you may need to access frequently. |
| 5. | Label all of your storage containers with a detailed inventory of what is inside. |
Latest Tips At Your Finger Tips
What we can't move
Good Green Moving is a top-rated San Francisco moving company that specializes in safely and efficiently transporting your belongings to your new home. However, there are certain items that we are unable to move due to safety concerns.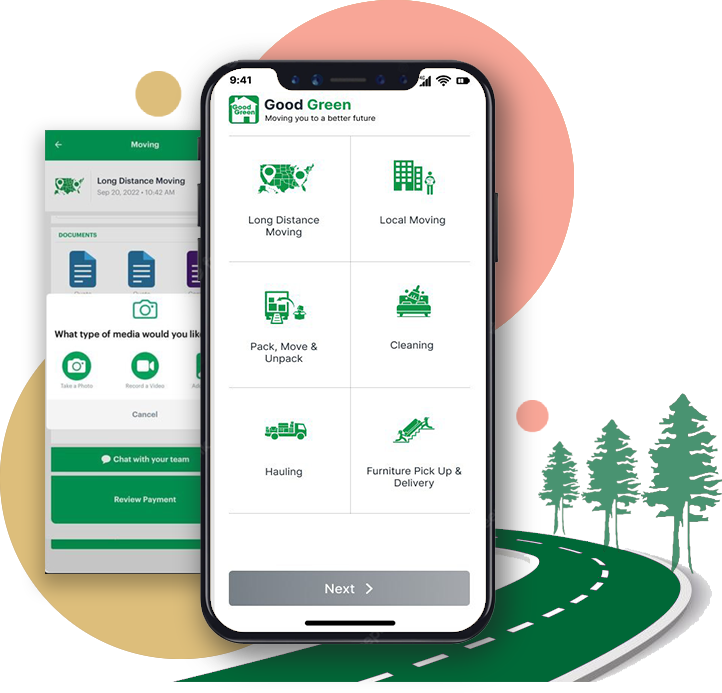 Video Estimation Technology.
Record your video. Upload. We will revert with an estimate. Its as simple as that.
Wide Range of Household Services.
Find Cleaning, Organizing, Hauling, and other specialty services in just a few taps.
Super smooth coordination.
Book, Update and Coordinate your entire move with a few taps from your smart phone.
Our Other Moving Services
Local & Long Distance Services
We specialize in both local and long distance moves. Our team of experienced professionals is dedicated to providing the highest level of service to ensure that your move goes smooth and stress-free. We take pride in using eco-friendly practices to reduce our carbon footprint.
Packing & Other Services
Good Green Moving offers a wide range of services. Our packing services include everything from full-service to partial and self-packing options. Our storage solutions include short-term and long-term options at our secure, climate-controlled facility. 
Household Services
Good Green Market Place offers a range of household services to help make your move as smooth and stress-free as possible. Our team of experienced professionals can assist with tasks such as setting up and disassembling furniture, hauling services, specialized packing and transport for high value items and many more.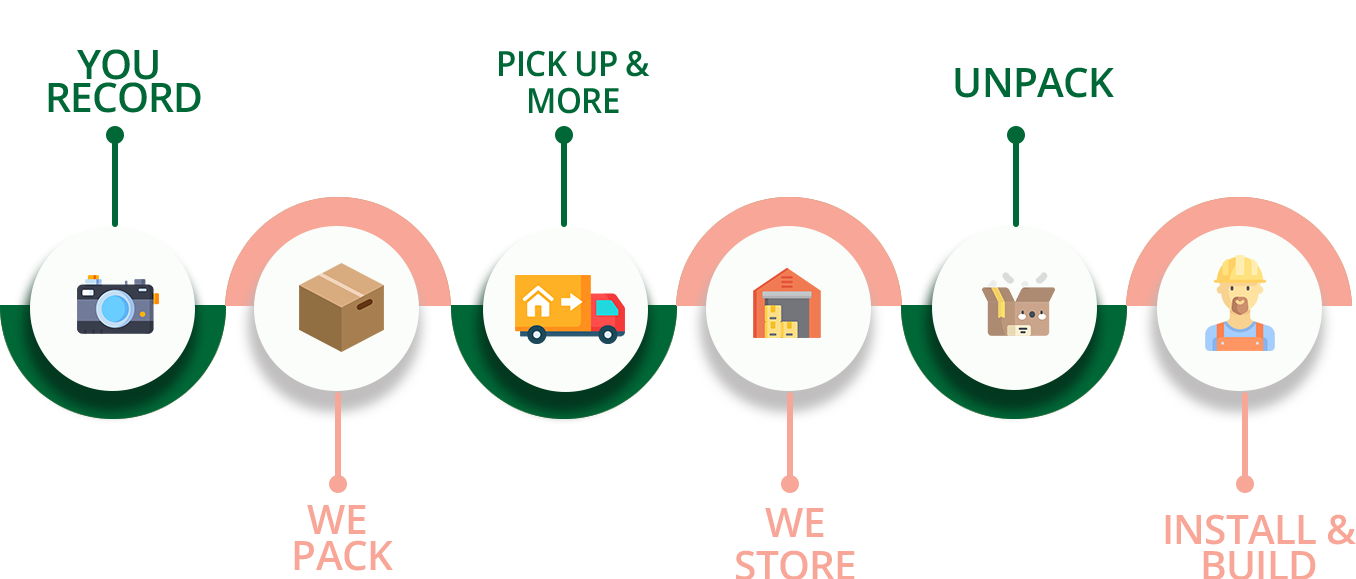 Why Good Green?
Because We CARE
Comprehensive
Our teams offer more services than any competitor, making your move hassle-free and convenient
Affordable
Our rates are competitive and transparent. We wouldn't have it any other way!
Restorative
Our green energy business donates to environmental charities with each move!
Easy To Use
We teach our teams caregiving tactics to make your move stress free. That's green-omenal news!
Commercial Moving Services
Our team of experienced professionals has the expertise and resources to handle all aspects of your commercial move, from planning and logistics to packing and transport. We offer a range of services to meet the needs of businesses of all sizes, including office moving, industrial moving, and more. We minimize downtime and disruption during a move, to ensure that your business is back up and running as quickly as possible.
What is the cost involved in moving?
The cost depends on the size of your move. To know the exact cost, it is best to get a free estimate which is offered online or through our mobile app. You can contact Good Green Moving company to get an accurate assessment of your moving cost.
How long will it take for me to move?
There can be a lot of factors to consider to estimate the time taken for a move. It mainly depends on the individual, distance, size of the destination etc. Even a local move might take long if there are a lot of items to be moved and if the size of the home is big. This might not be the case for smaller homes. Depending on the size of packing, loading, local move or a long distance move the time may vary. 
How many days prior to moving should I book the movers?
A general thumb rule is to contact the movers two weeks in advance. However, We recommend you to schedule your move as far in advance as possible. This way, there is a greater availability of choosing a date and time that would be convenient for you. We also understand that it is not possible to plan everything meticulously and we will accommodate last minute customers.