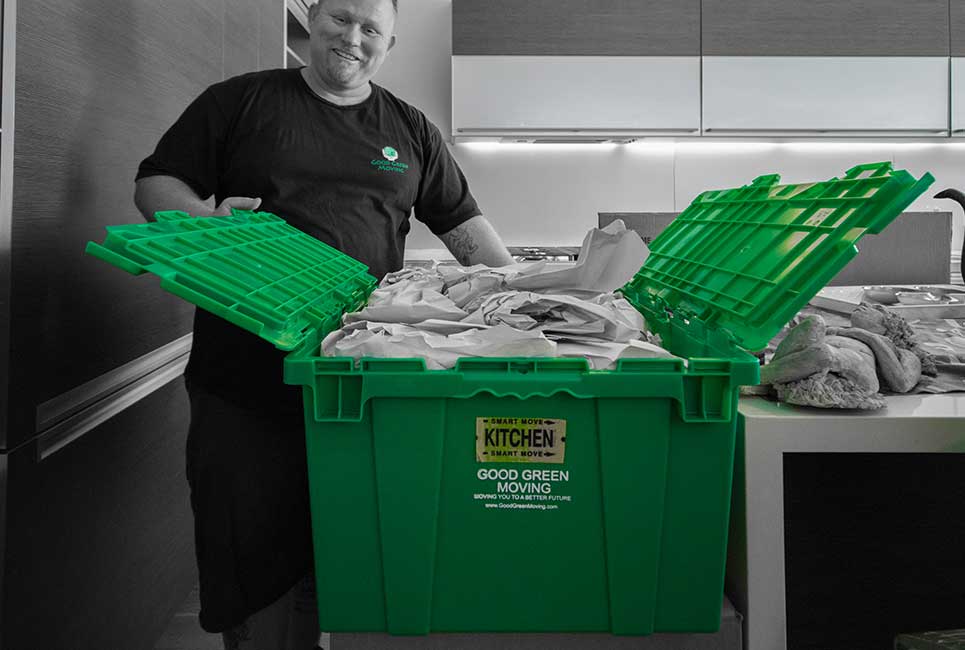 The San Francisco Bay Area is, hands down, one of the most sensationally naturally beautiful places to live in the world and those of us who are lucky enough to call it homework hard to keep the environment healthy. Did you know that you can protect the environment during your move? Indeed, when it comes to choosing a moving company Bay Area residents can choose one that puts the earth at the forefront of all that we do to safeguard the planet.
Moving Company in the Bay Area Helps You Go Green
Yes, it's possible to choose a moving company that understands that everyone plays a role in walking softly upon our earth. Our company, Good Green Moving, for example, belongs to the growing number of green movers that commit to implementing environmentally friendly strategies in all aspects of our business. We strive to reduce waste and encourage reuse through, for instance, renting reusable packing boxes to customers who need them for quick moves within the area.

Moving Tips that Honor the Earth
Are you frustrated with the amount of waste that typically occurs during a move? Think about the countless boxes and packing materials that are used one time and discarded into an ever-growing Bay Area landfill. Here are a few simple tips that embrace our connection to the natural environment.

Tip #1: Donate Whatever You Don't Want to Move
Donating formerly cherished items is a great way to help the environment, and the reduced load of household goods will make your move easier at the same time. Check out SFEnvironment for information on organizations that want your stuff.

Tip #2: Utilize Previously Used Boxes
You can make a direct effort to cut down on moving related waste by almost new boxes. Ask friends who've recently moved for boxes. Look into your closet for tote bags and other containers that can transport your belongings. Good Green Moving rents sturdy moving boxes through our Green Bin Rental service.

Tip #3: Get Creative in Packing Material
Who doesn't dislike the standard packing materials that flow out of just opened boxes and have a tendency to attach themselves to everything in the vicinity? Along with the annoying need to gather up the foam peanuts from nearly every possible surface in your new home, you probably grind your teeth when you use them because you know that there must be a more earth-friendly alternative. Better alternatives include newspaper, sheets and towels, reusable cloth bags, and even clothes.

Tip #4: Hire a Green Mover
Don't work hard at implementing earth-friendly moving strategies into preparing for your move only to hire a company that disregards the need to look out for the environment. Ask each company that you're considering contracting with to provide you with a detailed explanation of the steps that the mover takes to reduce waste and energy use.

Do your part in keeping the San Francisco Bay Area a remarkable place to live by hiring a moving company Bay Area residents trust to protect the environment. Good Green Moving is an expert in green moving, and you can rely on us to keep our carbon footprint to a minimum throughout the moving process. Contact us to arrange a green move.